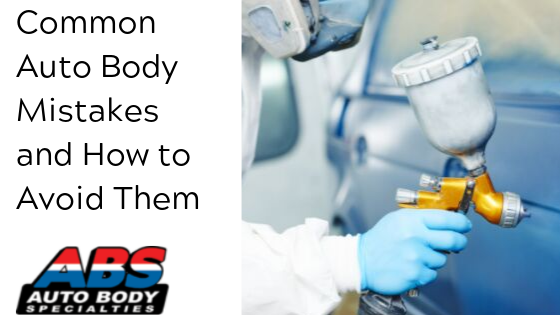 If you're an experienced auto body professional, or just starting out, you will likely make a mistake or two down the road. Auto body is a trade that has a lot of room for errors. Making those errors can be a costly mistake if they are not remedied quickly. There are, however, more common mistakes that can are likely to happen. Here is a list of common auto body mistakes and how to avoid them.
A common mistake is not doing the proper prep work to make sure your paint job comes out well. Be sure to prime the area and Bondo it if need be. You'll also want to make sure you're using the correct grit sandpaper. Using a grit that is too fine can lead to problems with the paint sticking down the road.
You'll also want to avoid a paint problem called "fish eye". It is caused by grease contamination on your paint surface. To avoid this you'll want to use a grease remover on the surface you're going to paint. Before you begin to paint, MAKE SURE YOUR COLORS MATCH. This can lead to a very obvious problem in the future.
When attaching panels and doors, make sure they fit snugly. If panels are not fitted correctly, they can lead to gaps which will increase the likelihood of further damage down the road. Just as important as the panels, are the headlights, electrical system and windshield wipers. Make sure they are working properly before saying the job is complete. These often end up damaged in collisions but the vehicle owner may not notice.
When the job is finally finished, be sure to align your customer's tires. Who knows what could have happened to them after a collision. After the alignment, make sure to also check the brakes, suspension and shocks. Not checking these things could put your client in serious danger!